Use this checklist to report a swarm.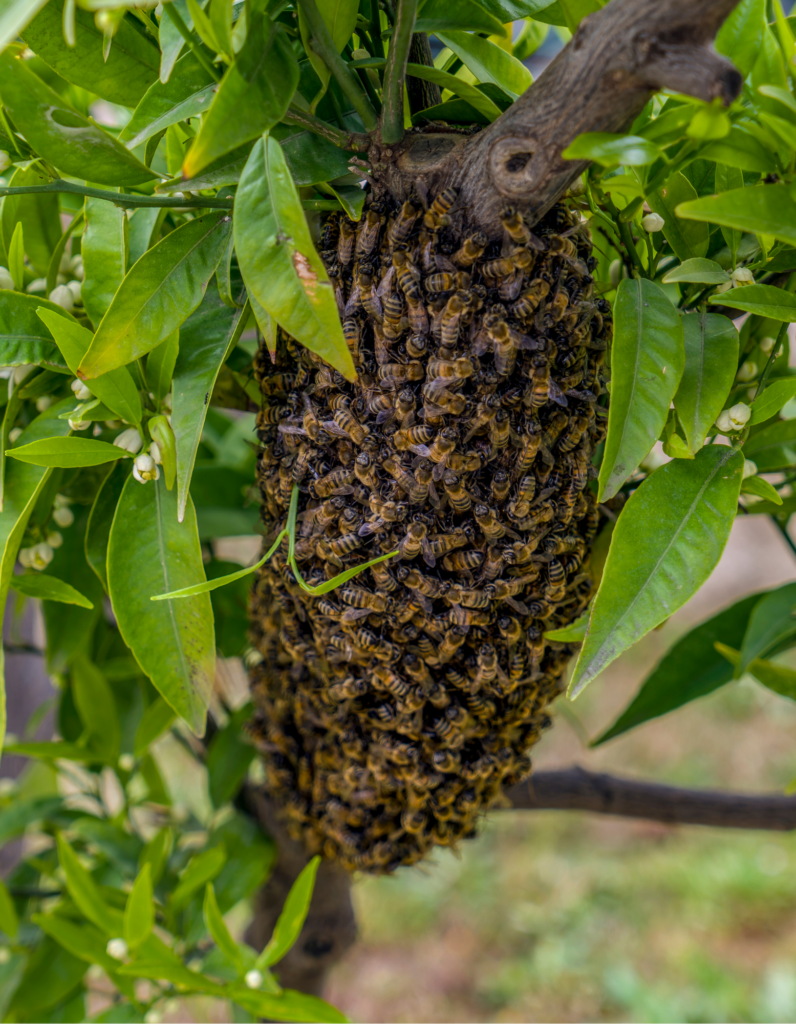 Find a Swarm Collector
This list of beekeepers is compiled from information submitted to us by the individuals who appear on this list. The Sacramento Area Beekeepers Association does not employ or represent any of the individuals on this list.  Some, but not all, may be members of the Association.  The list is in no way a recommendation or endorsement of the beekeeper's skill, training or experience.  Please check with individual beekeepers for their qualifications.
Beekeepers listed below have volunteered to be available for calls at any time, unless otherwise noted. 
Need help with a swarm in an area not listed? See the California State Beekeepers Association list of Affiliated Clubs in all areas of California to find a club or association near you.
Name
Contact Info
Availability Notes

Arden/Arcade

Wally

Westlake


Trap-out or Cut-Out:

Buildings

,

Trees

916-813-1005

No Restrictions




Bar

Shacterman


Trap-out or Cut-Out:

Buildings

,

High Above Ground

,

Other

,

Other Bees

,

Traffic Accidents

,

Trees

916-961-5049

No Restrictions




Tom

Storelli


Trap-out or Cut-Out:

Trees

916-834-3756

No Restrictions




Alex

Young



916-541-0833

No Restrictions




Louis

Zurlo


Trap-out or Cut-Out:

Buildings

,

High Above Ground

,

Other

,

Other Bees

,

Traffic Accidents

,

Trees

916-698-6800

Weekends Only




Kevin

Biddick


Trap-out or Cut-Out:

Buildings

,

Traffic Accidents

,

Trees

916-877-4338

No Restrictions




Jeff

Goding


Trap-out or Cut-Out:

Buildings

,

High Above Ground

,

Other

,

Other Bees

,

Traffic Accidents

,

Trees

916-502-7556

No Restrictions




Tiffany

White



916-342-0950

No Restrictions




Blake

Dacy


Trap-out or Cut-Out:

Building Surfaces

,

Buildings

,

Fences

,

High Above Ground

,

Other

,

Other Bees

,

Traffic Accidents

,

Trees

,

Trees up to 10' high

-916-8493528

No Restrictions




DW

Schoenthal


Trap-out or Cut-Out:

Buildings

,

High Above Ground

,

Other

,

Other Bees

,

Traffic Accidents

,

Trees

916-607-9595

Dave

Watson


Trap-out or Cut-Out:

Buildings

,

Traffic Accidents

916-798-8550

No Restrictions




Jay

Bucknell



-916-7647514

No Restrictions




Victoria

Alvarez



-916-8331424

No Restrictions




Carmichael

Jay

Bucknell



-916-7647514

No Restrictions




Alex

Young



916-541-0833

No Restrictions




Victoria

Alvarez



-916-8331424

No Restrictions




Blake

Dacy


Trap-out or Cut-Out:

Building Surfaces

,

Buildings

,

Fences

,

High Above Ground

,

Other

,

Other Bees

,

Traffic Accidents

,

Trees

,

Trees up to 10' high

-916-8493528

No Restrictions




Citrus Heights/Orangevale

Dave

Watson


Trap-out or Cut-Out:

Buildings

,

Traffic Accidents

916-798-8550

No Restrictions




Tom

Storelli


Trap-out or Cut-Out:

Trees

916-834-3756

No Restrictions




DW

Schoenthal


Trap-out or Cut-Out:

Buildings

,

High Above Ground

,

Other

,

Other Bees

,

Traffic Accidents

,

Trees

916-607-9595

Bar

Shacterman


Trap-out or Cut-Out:

Buildings

,

High Above Ground

,

Other

,

Other Bees

,

Traffic Accidents

,

Trees

916-961-5049

No Restrictions




Wally

Westlake


Trap-out or Cut-Out:

Buildings

,

Trees

916-813-1005

No Restrictions




Kevin

Biddick


Trap-out or Cut-Out:

Buildings

,

Traffic Accidents

,

Trees

916-877-4338

No Restrictions




Jeff

Goding


Trap-out or Cut-Out:

Buildings

,

High Above Ground

,

Other

,

Other Bees

,

Traffic Accidents

,

Trees

916-502-7556

No Restrictions




Blake

Dacy


Trap-out or Cut-Out:

Building Surfaces

,

Buildings

,

Fences

,

High Above Ground

,

Other

,

Other Bees

,

Traffic Accidents

,

Trees

,

Trees up to 10' high

-916-8493528

No Restrictions




Tiffany

White



916-342-0950

No Restrictions




Fred

Haelig


Trap-out or Cut-Out:

Trees

916-247-2620

No Restrictions




Amy

Green



916-661-9235

No Restrictions




Carole

Garrett


Trap-out or Cut-Out:

Buildings

,

Trees

916-496-4093

Evenings

,

Weekends Only




Davis/Woodland

DW

Schoenthal


Trap-out or Cut-Out:

Buildings

,

High Above Ground

,

Other

,

Other Bees

,

Traffic Accidents

,

Trees

916-607-9595

Wally

Westlake


Trap-out or Cut-Out:

Buildings

,

Trees

916-813-1005

No Restrictions




Jeff

Goding


Trap-out or Cut-Out:

Buildings

,

High Above Ground

,

Other

,

Other Bees

,

Traffic Accidents

,

Trees

916-502-7556

No Restrictions




Bar

Shacterman


Trap-out or Cut-Out:

Buildings

,

High Above Ground

,

Other

,

Other Bees

,

Traffic Accidents

,

Trees

916-961-5049

No Restrictions




Doug

Houck



530-400-8056

No Restrictions




Blake

Dacy


Trap-out or Cut-Out:

Building Surfaces

,

Buildings

,

Fences

,

High Above Ground

,

Other

,

Other Bees

,

Traffic Accidents

,

Trees

,

Trees up to 10' high

-916-8493528

No Restrictions




El Dorado Hills

Blake

Dacy


Trap-out or Cut-Out:

Building Surfaces

,

Buildings

,

Fences

,

High Above Ground

,

Other

,

Other Bees

,

Traffic Accidents

,

Trees

,

Trees up to 10' high

-916-8493528

No Restrictions




Bar

Shacterman


Trap-out or Cut-Out:

Buildings

,

High Above Ground

,

Other

,

Other Bees

,

Traffic Accidents

,

Trees

916-961-5049

No Restrictions




Kevin

Biddick


Trap-out or Cut-Out:

Buildings

,

Traffic Accidents

,

Trees

916-877-4338

No Restrictions




Wally

Westlake


Trap-out or Cut-Out:

Buildings

,

Trees

916-813-1005

No Restrictions




DW

Schoenthal


Trap-out or Cut-Out:

Buildings

,

High Above Ground

,

Other

,

Other Bees

,

Traffic Accidents

,

Trees

916-607-9595

Carole

Garrett


Trap-out or Cut-Out:

Buildings

,

Trees

916-496-4093

Evenings

,

Weekends Only




Dave

Watson


Trap-out or Cut-Out:

Buildings

,

Traffic Accidents

916-798-8550

No Restrictions




Jeff

Goding


Trap-out or Cut-Out:

Buildings

,

High Above Ground

,

Other

,

Other Bees

,

Traffic Accidents

,

Trees

916-502-7556

No Restrictions




Elk Grove/Delta

Bar

Shacterman


Trap-out or Cut-Out:

Buildings

,

High Above Ground

,

Other

,

Other Bees

,

Traffic Accidents

,

Trees

916-961-5049

No Restrictions




Blake

Dacy


Trap-out or Cut-Out:

Building Surfaces

,

Buildings

,

Fences

,

High Above Ground

,

Other

,

Other Bees

,

Traffic Accidents

,

Trees

,

Trees up to 10' high

-916-8493528

No Restrictions




Pete

Knight


Trap-out or Cut-Out:

Buildings

,

High Above Ground

,

Other

,

Other Bees

,

Traffic Accidents

,

Trees

209-366-3462

No Restrictions




Wally

Westlake


Trap-out or Cut-Out:

Buildings

,

Trees

916-813-1005

No Restrictions




James

Deaton


Trap-out or Cut-Out:

Buildings

,

Trees

916-868-8327

No Restrictions




Jeff

Goding


Trap-out or Cut-Out:

Buildings

,

High Above Ground

,

Other

,

Other Bees

,

Traffic Accidents

,

Trees

916-502-7556

No Restrictions




Dave

Watson


Trap-out or Cut-Out:

Buildings

,

Traffic Accidents

916-798-8550

No Restrictions




Paul

Lockhart


Trap-out or Cut-Out:

Buildings

,

High Above Ground

,

Traffic Accidents

,

Trees

916-813-2937

No Restrictions




DW

Schoenthal


Trap-out or Cut-Out:

Buildings

,

High Above Ground

,

Other

,

Other Bees

,

Traffic Accidents

,

Trees

916-607-9595

Ginger

Shepherd


Trap-out or Cut-Out:

Buildings

,

Trees

209-298-2081

No Restrictions




Fair Oaks/Carmichael

Dave

Watson


Trap-out or Cut-Out:

Buildings

,

Traffic Accidents

916-798-8550

No Restrictions




Blake

Dacy


Trap-out or Cut-Out:

Building Surfaces

,

Buildings

,

Fences

,

High Above Ground

,

Other

,

Other Bees

,

Traffic Accidents

,

Trees

,

Trees up to 10' high

-916-8493528

No Restrictions




Jeff

Goding


Trap-out or Cut-Out:

Buildings

,

High Above Ground

,

Other

,

Other Bees

,

Traffic Accidents

,

Trees

916-502-7556

No Restrictions




Carole

Garrett


Trap-out or Cut-Out:

Buildings

,

Trees

916-496-4093

Evenings

,

Weekends Only




Victoria

Alvarez



-916-8331424

No Restrictions




Amy

Green



916-661-9235

No Restrictions




Louis

Zurlo


Trap-out or Cut-Out:

Buildings

,

High Above Ground

,

Other

,

Other Bees

,

Traffic Accidents

,

Trees

916-698-6800

Weekends Only




Tom

Storelli


Trap-out or Cut-Out:

Trees

916-834-3756

No Restrictions




Kevin

Biddick


Trap-out or Cut-Out:

Buildings

,

Traffic Accidents

,

Trees

916-877-4338

No Restrictions




Wally

Westlake


Trap-out or Cut-Out:

Buildings

,

Trees

916-813-1005

No Restrictions




Tiffany

White



916-342-0950

No Restrictions




Jay

Bucknell



-916-7647514

No Restrictions




Bar

Shacterman


Trap-out or Cut-Out:

Buildings

,

High Above Ground

,

Other

,

Other Bees

,

Traffic Accidents

,

Trees

916-961-5049

No Restrictions




Fred

Haelig


Trap-out or Cut-Out:

Trees

916-247-2620

No Restrictions




DW

Schoenthal


Trap-out or Cut-Out:

Buildings

,

High Above Ground

,

Other

,

Other Bees

,

Traffic Accidents

,

Trees

916-607-9595

Folsom/Hwy 50

Tiffany

White



916-342-0950

No Restrictions




Kevin

Biddick


Trap-out or Cut-Out:

Buildings

,

Traffic Accidents

,

Trees

916-877-4338

No Restrictions




Blake

Dacy


Trap-out or Cut-Out:

Building Surfaces

,

Buildings

,

Fences

,

High Above Ground

,

Other

,

Other Bees

,

Traffic Accidents

,

Trees

,

Trees up to 10' high

-916-8493528

No Restrictions




Victoria

Alvarez



-916-8331424

No Restrictions




Dave

Watson


Trap-out or Cut-Out:

Buildings

,

Traffic Accidents

916-798-8550

No Restrictions




Wally

Westlake


Trap-out or Cut-Out:

Buildings

,

Trees

916-813-1005

No Restrictions




Fred

Haelig


Trap-out or Cut-Out:

Trees

916-247-2620

No Restrictions




Carole

Garrett


Trap-out or Cut-Out:

Buildings

,

Trees

916-496-4093

Evenings

,

Weekends Only




DW

Schoenthal


Trap-out or Cut-Out:

Buildings

,

High Above Ground

,

Other

,

Other Bees

,

Traffic Accidents

,

Trees

916-607-9595

Jeff

Goding


Trap-out or Cut-Out:

Buildings

,

High Above Ground

,

Other

,

Other Bees

,

Traffic Accidents

,

Trees

916-502-7556

No Restrictions




Tom

Storelli


Trap-out or Cut-Out:

Trees

916-834-3756

No Restrictions




Bar

Shacterman


Trap-out or Cut-Out:

Buildings

,

High Above Ground

,

Other

,

Other Bees

,

Traffic Accidents

,

Trees

916-961-5049

No Restrictions




Lodi/Galt

Bar

Shacterman


Trap-out or Cut-Out:

Buildings

,

High Above Ground

,

Other

,

Other Bees

,

Traffic Accidents

,

Trees

916-961-5049

No Restrictions




Paul

Lockhart


Trap-out or Cut-Out:

Buildings

,

High Above Ground

,

Traffic Accidents

,

Trees

916-813-2937

No Restrictions




Pete

Knight


Trap-out or Cut-Out:

Buildings

,

High Above Ground

,

Other

,

Other Bees

,

Traffic Accidents

,

Trees

209-366-3462

No Restrictions




Blake

Dacy


Trap-out or Cut-Out:

Building Surfaces

,

Buildings

,

Fences

,

High Above Ground

,

Other

,

Other Bees

,

Traffic Accidents

,

Trees

,

Trees up to 10' high

-916-8493528

No Restrictions




Loomis/Rocklin

Blake

Dacy


Trap-out or Cut-Out:

Building Surfaces

,

Buildings

,

Fences

,

High Above Ground

,

Other

,

Other Bees

,

Traffic Accidents

,

Trees

,

Trees up to 10' high

-916-8493528

No Restrictions




DW

Schoenthal


Trap-out or Cut-Out:

Buildings

,

High Above Ground

,

Other

,

Other Bees

,

Traffic Accidents

,

Trees

916-607-9595

Bar

Shacterman


Trap-out or Cut-Out:

Buildings

,

High Above Ground

,

Other

,

Other Bees

,

Traffic Accidents

,

Trees

916-961-5049

No Restrictions




Kevin

Biddick


Trap-out or Cut-Out:

Buildings

,

Traffic Accidents

,

Trees

916-877-4338

No Restrictions




Fred

Haelig


Trap-out or Cut-Out:

Trees

916-247-2620

No Restrictions




Jeff

Goding


Trap-out or Cut-Out:

Buildings

,

High Above Ground

,

Other

,

Other Bees

,

Traffic Accidents

,

Trees

916-502-7556

No Restrictions




Manteca

Ginger

Shepherd


Trap-out or Cut-Out:

Buildings

,

Trees

209-298-2081

No Restrictions




Blake

Dacy


Trap-out or Cut-Out:

Building Surfaces

,

Buildings

,

Fences

,

High Above Ground

,

Other

,

Other Bees

,

Traffic Accidents

,

Trees

,

Trees up to 10' high

-916-8493528

No Restrictions




Other

DW

Schoenthal


Trap-out or Cut-Out:

Buildings

,

High Above Ground

,

Other

,

Other Bees

,

Traffic Accidents

,

Trees

916-607-9595

Paul

Lockhart


Trap-out or Cut-Out:

Buildings

,

High Above Ground

,

Traffic Accidents

,

Trees

916-813-2937

No Restrictions




Bar

Shacterman


Trap-out or Cut-Out:

Buildings

,

High Above Ground

,

Other

,

Other Bees

,

Traffic Accidents

,

Trees

916-961-5049

No Restrictions




Blake

Dacy


Trap-out or Cut-Out:

Building Surfaces

,

Buildings

,

Fences

,

High Above Ground

,

Other

,

Other Bees

,

Traffic Accidents

,

Trees

,

Trees up to 10' high

-916-8493528

No Restrictions




Roseville/Hwy 80/65

Blake

Dacy


Trap-out or Cut-Out:

Building Surfaces

,

Buildings

,

Fences

,

High Above Ground

,

Other

,

Other Bees

,

Traffic Accidents

,

Trees

,

Trees up to 10' high

-916-8493528

No Restrictions




Tom

Storelli


Trap-out or Cut-Out:

Trees

916-834-3756

No Restrictions




Kevin

Biddick


Trap-out or Cut-Out:

Buildings

,

Traffic Accidents

,

Trees

916-877-4338

No Restrictions




Fred

Haelig


Trap-out or Cut-Out:

Trees

916-247-2620

No Restrictions




Bar

Shacterman


Trap-out or Cut-Out:

Buildings

,

High Above Ground

,

Other

,

Other Bees

,

Traffic Accidents

,

Trees

916-961-5049

No Restrictions




Wally

Westlake


Trap-out or Cut-Out:

Buildings

,

Trees

916-813-1005

No Restrictions




Tiffany

White



916-342-0950

No Restrictions




DW

Schoenthal


Trap-out or Cut-Out:

Buildings

,

High Above Ground

,

Other

,

Other Bees

,

Traffic Accidents

,

Trees

916-607-9595

Jeff

Goding


Trap-out or Cut-Out:

Buildings

,

High Above Ground

,

Other

,

Other Bees

,

Traffic Accidents

,

Trees

916-502-7556

No Restrictions




Sacramento Area

Wally

Westlake


Trap-out or Cut-Out:

Buildings

,

Trees

916-813-1005

No Restrictions




Jeff

Goding


Trap-out or Cut-Out:

Buildings

,

High Above Ground

,

Other

,

Other Bees

,

Traffic Accidents

,

Trees

916-502-7556

No Restrictions




Tiffany

White



916-342-0950

No Restrictions




Paul

Lockhart


Trap-out or Cut-Out:

Buildings

,

High Above Ground

,

Traffic Accidents

,

Trees

916-813-2937

No Restrictions




Louis

Zurlo


Trap-out or Cut-Out:

Buildings

,

High Above Ground

,

Other

,

Other Bees

,

Traffic Accidents

,

Trees

916-698-6800

Weekends Only




Victoria

Alvarez



-916-8331424

No Restrictions




Jay

Bucknell



-916-7647514

No Restrictions




James

Deaton


Trap-out or Cut-Out:

Buildings

,

Trees

916-868-8327

No Restrictions




Dave

Watson


Trap-out or Cut-Out:

Buildings

,

Traffic Accidents

916-798-8550

No Restrictions




Kevin

Biddick


Trap-out or Cut-Out:

Buildings

,

Traffic Accidents

,

Trees

916-877-4338

No Restrictions




Bar

Shacterman


Trap-out or Cut-Out:

Buildings

,

High Above Ground

,

Other

,

Other Bees

,

Traffic Accidents

,

Trees

916-961-5049

No Restrictions




Blake

Dacy


Trap-out or Cut-Out:

Building Surfaces

,

Buildings

,

Fences

,

High Above Ground

,

Other

,

Other Bees

,

Traffic Accidents

,

Trees

,

Trees up to 10' high

-916-8493528

No Restrictions




DW

Schoenthal


Trap-out or Cut-Out:

Buildings

,

High Above Ground

,

Other

,

Other Bees

,

Traffic Accidents

,

Trees

916-607-9595

Stockton

Blake

Dacy


Trap-out or Cut-Out:

Building Surfaces

,

Buildings

,

Fences

,

High Above Ground

,

Other

,

Other Bees

,

Traffic Accidents

,

Trees

,

Trees up to 10' high

-916-8493528

No Restrictions




Pete

Knight


Trap-out or Cut-Out:

Buildings

,

High Above Ground

,

Other

,

Other Bees

,

Traffic Accidents

,

Trees

209-366-3462

No Restrictions




Wilton/Harold

Paul

Lockhart


Trap-out or Cut-Out:

Buildings

,

High Above Ground

,

Traffic Accidents

,

Trees

916-813-2937

No Restrictions




Blake

Dacy


Trap-out or Cut-Out:

Building Surfaces

,

Buildings

,

Fences

,

High Above Ground

,

Other

,

Other Bees

,

Traffic Accidents

,

Trees

,

Trees up to 10' high

-916-8493528

No Restrictions